I'm not sure if I've mentioned my love of all things Apple before. Ok, I might have mentioned it just a couple hundred times. The iPhone 4s came out recently and I actually didn't race down to the Apple store to wait impatiently in line for the latest phone. I'm holding out for version 5 that should come out next year. (Please, tiny baby Steve Jobs lying in a manger, let that roll out not be delayed.)
I have long said my iPhone has replaced most of my real life interactions. A few people have commented on how sad that is. I always respond with "Not for the people I used to have to talk to all the time." It's best to keep a thick wall of technology between me and carbon-based life forms.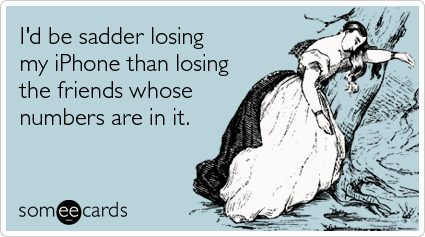 Maybe my friends should learn to organize my e-mail, keep my calendar updated and store funny cat pictures.
I was a little nervous when I heard the 4s came with a personal assistant named Siri. I assumed they were talking about Suri Cruise and I couldn't figure out how she would have time to organize my life AND be groomed to become next Scientology leader. I figured she had a full day of sacrificing goats or jumping on couches. (This will probably be the post that gets me killed.) As it turns out, Siri is a virtual assistant who can pretty much answer any question you throw at her. I need that! "Siri, did I leave my flat iron on?" "Siri, where can I get Skittles?" "Siri, what's my husband's name again?"
I don't really remember when we started doing it, but Mr. TK and I often sit on the couch next to each other and text back and forth. Does anyone else do that? We thought it was funny at first and now it's just become habit. I must be easily entertained because it cracks me up to receive a text from six inches away that says "What are you doing?" or "What are you wearing?" Yeah, I'm a twelve year old boy.
It was Mr. TK who sent me the video below and I was dying laughing. Again, maybe I'm easily amused.
Does anyone else have
an unhealthy
a close relationship with their phone? If you have a 4s, have you used Siri in an unusual or inappropriate manner? Do tell.